Sailor Moon and Her Sailor Scouts Computer Fun Set
Video Game Information

Game box cover art
Name (original):
Sailor Moon and Her Sailor Scouts Computer Fun Set
Name (romanized):
Name (translated):
System:
PC
Publisher:
Gryphon Software Corporation
Release Date:
April 1, 1996
Sailor Moon and Her Sailor Scouts Computer Fun Set was a video game for the Windows 3.1 and Macintosh PC. It was released by Gryphon Software Corporation in the USA on April 1, 1996.
Gameplay
[
edit
]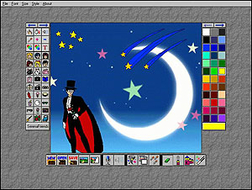 Game screenshot
The game was based on the Colorforms toy set. The player made pictures by putting drawings of Sailor Moon characters and other images on top of a background. The pictures could then be printed out or saved to a disk.
The game had twelve backgrounds from the anime which were redrawn in 256 colors. It played sound clips from the DiC version of the English dub when the player added a character to the picture.

The company also distributed a mostly-functional demo version of the game on their (now-defunct) website.